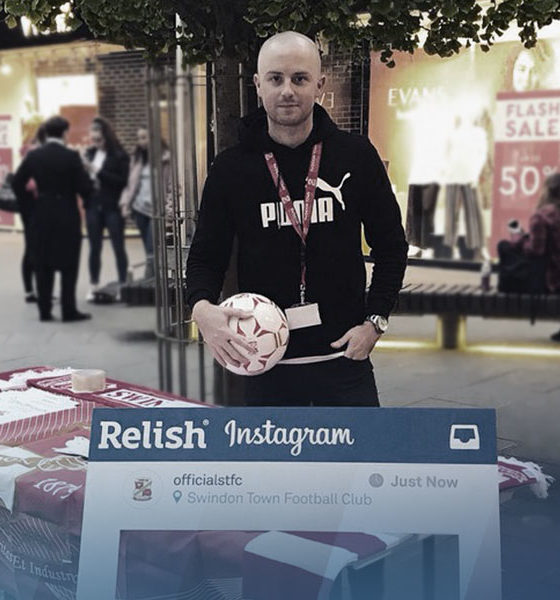 INTERVIEW: Danny Lee (Swindon FC) "Everyone is looking for the best value for money"
Head of Ticketing at Swindon Town FC, Danny is launching very innovative and relevant activations to satisfy all the fans.
We are following Danny for a while now, as having a key influence on the fan experience sector and often digging very interesting content, especially on LinkedIn. Danny is very active at Swindon Town FC, always creating new activations for fans.
—–
🇲🇫➡ Lien vers l'article en français.
—–
Swindon Town FC is a professional football club in England. Founded in 1879, the team now compete in League Two, the fourth tier of the English football league system. The club's home is the County Ground stadium, with a capacity of 15,700.
Hi Danny, can you present yourself and help us understand better what you do for the club?
My role here at Swindon Town is Head of Ticketing which incorporates all match day ticketing for home and away fixtures but is also centered around the match day experience and fan engagement which inevitably leads to growth in attendances and overall interest in the football club. My remit is to improve and develop our ticketing outreach and customer service for all Swindon Town supporters.
How is the Swindon Town FC staffed around the fan experience?
Here at Swindon we are a fairly small team and as such our roles are often transferable and we all help each other out. In the build up to match day both myself and our Head of Media (Ben Hooke) and design team will put everything in place in terms of marketing and engagement pieces like for instance face painting and other match day activation but on a match day I take a very hands on role meeting and greeting fans and ensuring we deliver what we promise and once again provide that memorable match day experience to our supporters. We do also have part time match day staff but these are usually volunteers that help but all will have some connection to the club to again keep a uniformed match day offering.
Almost 2 months ago, you have launched 'My First Game' initiative at Swindon Town FC. A special diploma for kids that we shared on Fanstriker and many people reacted positively about this. Can you tell us more about this idea?
It has been a fantastic initiative and the feedback has been so positive from all fans both home and away, I am really proud of it. The idea originally came when myself and a colleague went to a football league seminar in April where we talked about new ideas and improving the match day experience for fans. My main focus has been on the kids and by making that first game so memorable with a little keepsake and something a little different it will lead to them wanting to come back irrespective of the result. We are looking to continue to build on this even further.
We observed that you are making many activations for kids and young people. Why acting mostly towards this type of public? Is it your main target for ticketing?
They are the future of our club and really important to us. They are future season ticket holders and we really pride ourselves on being a family club. I have found that children are less interested in results when deciding to attend matches in comparison to adults, so if we can engage with them their parents are more likely to attend also.
What is the fan experience action you are the most proud of with Swindon Town FC?
As I mentioned I am really proud of our 'My first game' but I would say our junior takeover day was the best so far. We had over 700 new children attend the game and in the build up to the game we went out into the community to deliver free tickets, the players attended school PE sessions as well as offering free stadium tours to local groups and projects. It was fantastic and a really proud moment for me to see so many new faces at the game. The introduction of our new family zone was also a very proud moment for me.
Is the fan experience a hobby, a passion or has it become part of your job?
First and foremost before it was my job I was (and still am) a huge football fan. So the way I look at it is what would I like to see and get from my match day experience and then I try and incorporate that into what we do at Swindon.
What is in your opinion the link between ticketing and the fan experience?
The link between ticketing and fan experience is huge, these days it's just not about the football especially for families and everyone is looking for the best value for money. On a Saturday as a parent I have a choice: do I go to football and spend maybe £50 or do I go to the zoo or something else which is a full day out and spend the same? We need to add value and make it more than just the 90 minutes which is my main aim to engage and make it not necessarily all about the football. I am also looking to new and unique ideas on how we can do this so we have added face painting, selfie boards, activity areas and player visits to our junior areas all of which add value and improve the overall match day experience.
What motivates you in what you do?
My motivation is really to see the County Ground as busy and a great atmosphere at each and every game. This inevitably helps things on the pitch but as I said I am a supporter too so I am really passionate about being in the situation I am in to make a difference and get my point across.
How would you define the difference between fan experience and fan engagement?
I think that both go hand in hand when attending a match. A fans experience is not only about how well engaged they are with the club but also about who they come with and and overall shared experience. One fans engagement becomes part of another fans experience and that's what makes football, as a business unique because as a consumer your experience is ten times more reliant on other consumers than in any other industry. It is our job as a football club and to facilitate this.
In general, do you think that clubs are creative enough in the fan experience and making fans happier?
I think more and more clubs are having to do it especially at our level and as I mentioned, everyone is looking for greater value for money. Some clubs do it better than others but it does depend on the individual as to how creative and emphasis they put on it.
How far do you think the sport industry is to reward properly the fans loyalty and passion?
I would say every club is different, we at Swindon need to reward our loyal fans as they have been with us through both the thick and thin and its important to reward season ticket holders and not just new fans. That's why all ticket promotions we offer ensure season ticket holders are also able to access the offer or we give something in return. Man United for example have a waiting list of 30,000 season ticket holders so for them maybe rewarding loyal fans isn't as much of a priority to them.
Would you say that the fan experience is very cultural? Are British fans different from other fans around the world?
I would 100% agree with that, I have traveled a lot and seen football in a lot of countries. Football in England is still old fashioned with segregation. Authorities are still a bit cautious of fans mixing like other sports but this down to previous issues. This is cultural though as I lived in Spain even outside of football there is a far greater community spirit in mixing and socialising so I think this makes a difference. The introduction of fan zones has been great though as seen at World Cups and Champions League finals.
Have you already attended a game in France?
I have not actually, but yes I am always looking to see other clubs and cultures and how they go about things. I am a Manchester United fan so perhaps a visit to Paris for our Champions League game next year would be good !
In France, many sport stakeholder think that the american model cannot be copied in a country like ours. Because of the culture and how people consume sport. What is your opinion about that, is it a business model you are looking at within your club?
I am a huge advocate of that. As I mentioned above in making it more than just a game or the 90 minutes. America does that so well but it is cultural. Here in England fans are very traditional and have same routine each day, get up, go to the pub and then go the game at 2.45pm just before kick off. But it can be done and that is where targeting children is important as it gives them something to do and fans arrive much earlier and soak up the atmosphere pre match.
"On a Saturday as a parent I have a choice: do I go to football and spend maybe £50 or do I go to the zoo or something else which is a full day out and spend the same? We need to add value and make it more than just the 90 minutes…"
Everyone is talking about digital transformation in sport, with connected stadium, mobile apps, virtual reality, etc. What do you think about opportunities and risks by using digital tools in the fan experience? And what about the impact that can be expected for the club and the fans?
It is really important as everyone is on mobile devices and it is a great way to engage. We currently have turnstiles that can be used by a mobile so they can scan their ticket on them, we also have a fan app which we push offers, content and offer a 'man of the match' vote to further engage supporters. It's all about getting them to social and share their experiences which inevitably leads to further growth opportunities across every area of the club.
What is the role of the sponsors towards the fan experience? Can they really contribute or is there always an impediment due to their last end objective of selling/being better known?
It is hugely important as again they are looking for better interaction and social from our supporters. A good example of this is one of our sponsors Relish wanted to promote at half time. So I came up with an idea of a half time challenge where 3 supporters were chosen to take part, and try and score a goal against our club mascot in front of all the fans. Whoever did it in the quickest time wins 2 hospitality places for an upcoming match. For me it was important that it was not only engaging for people taking part but watching supporters.
What is the best fan experience you lived? If you can remember and explain us why?
The NFL UK games at Twickenham. Amazing pre match build up and really made a day of it, it was buzzing.
What are your projects in the future?
My ambitions are to continue to grow and develop here at Swindon Town, I really want to make a difference and hopefully we can climb the divisions here at Swindon. There are lots of positives with talk of a new stadium and training ground investment so hopefully over next few years we can continue to grow. I would also like to work abroad at some point but just going to continue doing what we are doing here and see what happens…
Thank you very much Danny for this immersion into the very active English football club, Swindon Town FC. We are very happy to see that professionalism and importance given to the fan experience can be well implemented at all sport level. Well done!
To follow Danny on social, have a look at his Linkedin page!
We invite you to have a look at Swindon Town FC website which contains several good practice for clubs. One we particularly like and we have not talked about in this interview is the guide to welcome Away fans at the stadium. So smart!
Vous avez aimé cet article ?
N'hésitez pas à nous partager votre ressenti. C'est le meilleur moyen pour nous d'améliorer nos contenus.
Managing crowds in stadiums after the COVID-19 break with Zack KLIMA founder of WaitTime
How can we organise the return of fans to stadiums while encouraging social distancing? WaitTime offers a solution to master crowd management during the post COVID-19 era.
Since the beginning of May, several sports leagues have resumed without any fans within the stands. As teams and leagues are preparing for a new season, there is a lot of debate about the return of fans in stadiums. How could we make sure that fans are able to social distance at sports events? Zack Klima answered that question by presenting WaitTime in our podcast.
WaitTime's state-of-the-art, patented artificial intelligence leverages both a guest platform and an operator's platform to observe, measure, and maximize the impact of the WaitTime system using real-time data and historical analysis

– WaitTime website
Allow fans to enjoy the game at its fullest
Have you ever missed an important play because you left your place and were waiting in line at the food court. Zack Klima has! After that happened to him, he decided to create WaitTime: an AI-based solution that allows fans to see in realtime how crowded the food court, the restrooms or any area of the stadium is. Not only does WaitTime allow fans to enjoy more of the game but it also allow venues to improve their service.
Facilitate social distancing and make fans feel safe
The idea of bringing fans back in stadiums drives many questions. Will fans feel safe enough to go back to gatherings like sports events? How can make sure fans practice social distancing in stadiums? What if fans don't stroll in the hallways of the stadium as they used to?
"WaitTime went from being a nice-to-have solution to a must-have" – Zack Klima, Founder of WaitTime
WaitTime tackles all of those problems. Before the COVID-19 crisis, allowing the audience to track busy places in real-time was a nice thing to do. It has now become a must.
After encountering much success in sports venues since 2014, WaitTime's technology is now being used in major mainstream common areas like train stations and restaurants.
Vous avez aimé cet article ?
N'hésitez pas à nous partager votre ressenti. C'est le meilleur moyen pour nous d'améliorer nos contenus.