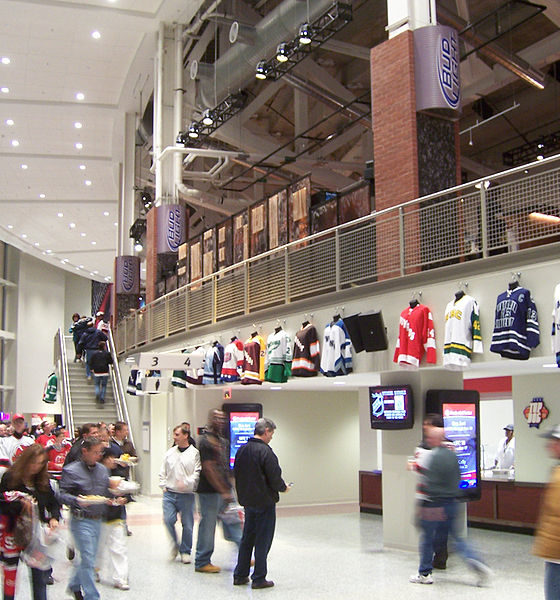 How to manage crowds in stadiums after the COVID-19 break with Zack KLIMA (WaitTime)
How can we organise the return of fans to stadiums while encouraging social distancing? Zack Klima and WaitTime offers a solution to master crowd management during the post COVID-19 era.
Since the beginning of May, several sports leagues have resumed without any fans within the stands post Covid-19. As teams and leagues are preparing for a new season, there is a lot of debate about the return of fans in stadiums.
How could we make sure that fans are able to social distance at sports events post Covid-19? Zack Klima answered that question by presenting WaitTime in our podcast.
"WaitTime's state-of-the-art, patented artificial intelligence leverages both a guest platform and an operator's platform to observe, measure, and maximize the impact of the WaitTime system using real-time data and historical analysis." – WaitTime website
Allow fans to enjoy the game at its fullest
Have you ever missed an important play because you left your place and were waiting in line at the food court. Zack Klima has! After that happened to him, he decided to create WaitTime: an AI-based solution that allows fans to see in realtime how crowded the food court, the restrooms or any area of the stadium is. Not only does WaitTime allow fans to enjoy more of the game but it also allow venues to improve their service.
Facilitate social distancing and make fans feel safe
The idea of bringing fans back in stadiums drives many questions. Will fans feel safe enough to go back to gatherings like sports events? How can make sure fans practice social distancing in stadiums? What if fans don't stroll in the hallways of the stadium as they used to?
"WaitTime went from being a nice-to-have solution to a must-have" – Zack Klima, Founder of WaitTime
WaitTime tackles all of those problems. Before the COVID-19 crisis, allowing the audience to track busy places in real-time was a nice thing to do. It has now become a must.
After encountering much success in sports venues since 2014, WaitTime's technology is now being used in major mainstream common areas like train stations and restaurants.
Vous avez aimé cet article ?
N'hésitez pas à nous partager votre ressenti. C'est le meilleur moyen pour nous d'améliorer nos contenus.

Homefans E1: The Parisian fan experience with Alex
Alex, a parisian soccer fan tells us how he created a travelling experience around PSG for international PSG fans.
Here is the first episode of a series dedicated to the best fan experience in the world with Homefans. Welcome to Paris and the Parisian experience.

Let's start the first episode of our partnership with Homefans with an immersion in Paris at the Parc des Princes with Alex!
Just back from the United States, Alex rediscovered the perks of living in Paris, the city of his favorite team: Paris Saint-Germain. After many experiences of sports travels in America and Europe, the born and raised parisian wants to make travellers discover the capital through sports.
From the Parc des Princes to Montmartre via the Eiffel Tower, Alex offers the most beautiful visit of Paris for soccer fans. Thanks to Homefans, he earns money by sharing his passion for Paris Saint-Germain. Indeed, Alex offers PSG fans from all over the world the opportunity to experience a game day like a true local.
The Parc des Princes: a stadium with an atmosphere like no other
Alex has been supporting the PSG since he was a child. His best memory of the Parc des Princes is simply his first game. Chance made that moment even more special as his favorite song, I Feel Good by James Brown, came in the speakers as he entered the stadium. Since then, Alex has returned to the stadium with the same passion and above all the desire to share emotions with other fans.
"I go to the stadium first and foremost because I know I'm going to experience great emotions there. My best memories at the Parc are the turnarounds, good and bad. That's what makes me want to go back game after game."

Alex, host Homefans PSG
After living in the United States for a while, Alex realized the beauty of European stadiums. The fervor of our fans is miles away from what can be seen elsewhere. On their own, European soccer fans organize themselves to lighten up the games and make themselves heard. This is not something you find in many other sports or in many other stadiums. For him it is the big asset of our European stadiums.
Sharing his passion for Paris Saint-Germain with Homefans
Going to live a sports experience abroad is an unforgettable moment. But it's even better when you fully discover a club and its environment by visiting the best places and going to the best bars around the stadium with local fans.
This is what Alex missed when he went to see a Tottenham game in London. Traveling to London to see a game was a dream. Having local fans with him would have been an opportunity to be fully immersed and to experience the game like a real Londoner. This is what motivated him to join Homefans: to share his passion for Paris, the club and the city. Homefans is the perfect way for him to do that. Homefans is the best marketplace for sports travel. It allows local supporters from the most beautiful sports cities to host game day experiences for sports fans who travel from all over the world. If you want to discover what a game day among a group of Parisians feel like, then Alex's PSG experience is for you!
Experiencing PSG games like a local Parisian
Soccer fans from all over the world can book a day with Alex to go to the Parc des Princes and discover the city of Paris. It starts with a visit of the most beautiful places in the capital. Then, the PSG fan group will be able to taste the best parisian and french specialities before going to the game. But if the fans use Homefans, it's above all for pre- and post-game rituals.
According to Alex, the formula for a successful game day is very simple. He only needs a group of friends, a win and a kebab after the game. He is still looking for the best Greek in Paris to add to his list of attractions!
"This is really a dream job! I can share my passion for PSG and Paris with like-minded sports fans. I get to show them the best spot in the city for a sports fan."

Alex, local host on Homefans
Alex has been a fan of the PSG since a long time before his recent successes. Still he appreciates all the sporting richness that Paris SG has to offer. From Paris FC to Paris Basketball, via the PSG Experience, the capital city is full of exciting sporting events.
Like many cities in France, the parisian sports landscape is rich. It attracts thousands of tourists and enthusiasts every year. You too can offer the most beautiful sports experience in your city. Homefans is a unique opportunity for you to get paid by accompanying foreign fans to your favorite stadium. Just like Alex, you can have become a local host and build a sports experience around your city. This is your chance to get your dream job ! If you want to know more and join the community, just click here! 
Vous avez aimé cet article ?
N'hésitez pas à nous partager votre ressenti. C'est le meilleur moyen pour nous d'améliorer nos contenus.